Welcome to Lake Biwa!
MARINA CLUB RIVRE is located only 30 minutes from Kyoto! (One hour from Osaka)
ABOUT

Located right on the shore, the MARINA CLUB RIVRE has
been open for decades for people who love Japan's largest lake.
Together with our friendly staff,
our wide range of facilities and services,
including sailing, stand-up paddle-boarding (SUP),
wind surfing and bass fishing will ensure that you go home with long-lasting memories.
Come explore our magnificent landscape,
and have a peaceful time.
Welcome to Lake Biwa.
Welcome to MARINA CLUB RIVRÉ.
ACCESS

MARINA CLUB RIVRE is located only 30 minutes away from Kyoto
and one hour away from Osaka using the JR Kyoto line and Kosei line.
Take one step further for more fun and quality time.
Transfer available from JR Katata station.
ACTIVITIES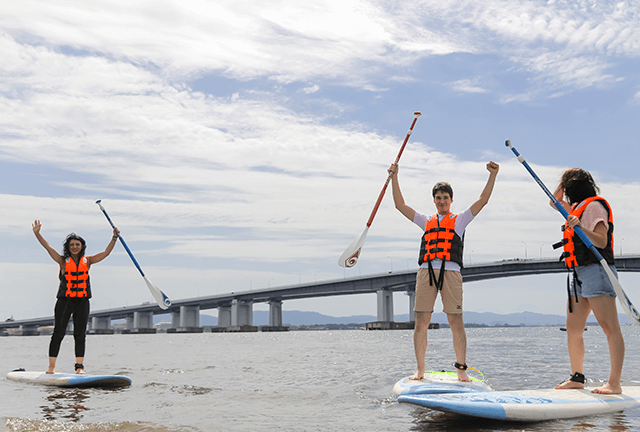 Rent out our Hawaii originated SUP (stand-up paddle-boarding) and paddleboard out to Lake Biwa!
Enjoy a standing or sitting tour of the waters on our extremely stable boards. You can paddle Biwako-Ohashi bridge, and visit the Mano River and its lovely cherry blossoms—all close enough for even beginners and kids to reach easily!
Paddle alongside aquatic birds, turtles and fish too!
PRICE
EXPERIENCE FEE (visitor)
¥5,500 / 1 person
RENTAL FEE (member)
150 minutes or less
¥4,500
1 day
¥8,000

Lake Biwa is one of Japan's popular sailing spots. Sail out on the north winds to Okishima island, located on the lake!
Enjoy this refreshing cruise along the magnificent scenery of Mt. Hiei and Mt. Houraisan.
Rent out our self-developed sailing boat Actus (17 feet, Bulb keel, capacity of up to 5 people), with its 400-liter buoyancy structure that allows anyone, regardless of age or skill, to enjoy safe sailing.
RIVRE's original sail boat Actus
Designed by Ichiro Yokoyama, from the former Americas Cup Challenge.
A newly categorized sailing boat that combines the stability of a cruiser with a bulb keel and the power of a dinghy.
PRICE
EXPERIENCE FEE (visitor)
¥6,800 / 1 person
¥9,800 / 2 person
RENTAL FEE (member)
180 minutes or less
¥5,600
1 day
¥9,000

Wind surfing originated in California, USA. Rent out our world-popular and simple wind surfing boards, easy to use whether you are a beginner or advanced. The south side of the beach is for beginners, and the north is for intermediate / advanced-level guests.
PRICE
EXPERIENCE FEE (visitor)
¥15,000 / 2 person
RENTAL FEE (member)
180 minutes or less
¥6,600
1 day
¥9,000

Our well-trained sailing instructors welcome you to our facilities. All instruction is provided as private lessons, enabling you to improve your skills at your own convenience. Let our instructors sail you out to Biwa Lake!
※We also offer private lessons for ladies only.
PRICE
・SAIL BOAT
・WIND SURFING
Half a day course
10:00〜13:00
13:00〜16:00
1 Day course
10:00〜16:00
1 person
¥15,000
¥15,000
2 person
¥25,000
3 person
¥20,000
¥30,000

After your water activities, enjoy a peaceful barbecue by the lake side that includes charcoal grilled tender beef, fresh vegetables and freshly cooked Oumi Rice balls.
Oumigyu Set Menu (locally produced)
Oumigyu is considered to be among the top-three types of Japanese "wagyu" beef, together with Kobe beef and Matsuzaka beef. It has been recognized as a type of wagyu beef for over 400-years. Please enjoy this delicate, tender, and delicious beef.
Tankai chicken Set Menu (locally produced)
If you love chicken, we recommend our locally-produced Tankai chicken. The male chickens tend to be leaner, while the females tend to be tender, well-balanced, and moist. Both have a deeply satisfying taste. Enjoy the various textures and consistencies of your chicken, perfectly complemented by our fresh vegetables.
PRICE
| | Beef set | Chicken set |
| --- | --- | --- |
| 1 person | ¥5,500 | ¥4,500 |